1
Emily Soares Proctor: Writer, Editor & Coach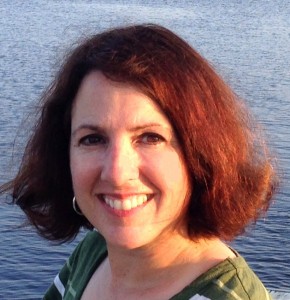 The daughter of a Las Vegas couple (Mom was a dancer, Dad a musician) Emily and her family left The Strip when she was still a tot and headed to the hot but almost coastal climes of the San Fernando Valley. There she was drenched, not surprisingly, in a love of films and of the wide flat streets of the Valley, with its then-magnificent signage, such as the big hen for Chicken Delite and the large Chinese man suspended above Ho Toy's (a statue, that is). In mid-high school, the family moved to the lush quietude of the Rogue River Valley in southern Oregon, where Emily soaked in that state's rain and river water. She returned to California to earn her film degree at San Francisco State University…and had no idea what to do next.
 But there was writing; always there was writing. From The Leper Cotillion, a brilliant but secretive 'zine published by herself and colleague Lisa Furlong Jones, to Maximum Rock n Roll, The San Francisco Bay Guardian, The Net Magazine and San Francisco's The Independent, journalism took a hold of her and wouldn't let go.
After several years in Eastern Europe and Russia, Emily learned the virtue of patience and the beauty of túró cheese and vodka (not necessarily combined), while writing for English-language newspapers and helping launch Pulse, a Finnish/Russian magazine. She then brought her love of reporting, and of any good story, with her when she moved to Atlanta to work for CNN.
In the South, with its thunderstorms, lightning bugs and other oddities, like people who are nice to strangers, Emily had at last found home. On to Turner Network Television (TNT) and back to her love of film when she landed on the network's website, TNT.tv, as editor and writer. So began the glory days, creating content for the network's feature titles, nascent Originals franchise and her favorites: MonsterVision and its unhosted cousin 100% Weird.
She stayed on for eight more years, seven of them as Managing Editor, through AOL merger, regime change, rebranding (We Know Drama!) and the site's transformation from programming tool to marketing asset. She was buoyed by the era of The Pretender, the brilliant but doomed Witchblade, and the rise of TNT Originals, which allowed her love of TV and writing to join in award-winning content for titles like Into the West and The Closer.
But at last, Emily realized it was time to get on with the things she'd been wanting to do, like starting her own content and communications business. So she left the 9-5 world…and entered the one of days, nights and weekends. Copy Chemist was born! There she sits, gentle (sleeping?) reader, looking for opportunities to strengthen your business's brand, enrich your publication or help you improve your own writing. Set up a free Copy Chemistry Lab session to find out how she can help!